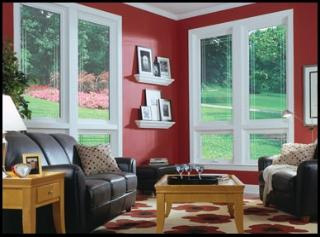 Windows | Contact Us
Since 1952, L.J. Neal & Sons has been defining quality in detail! As a family-owned and operated home improvement company that was founded on the tried and true "Old World" traditions of integrity, quality and master craftsmanship, we are recognized throughout the Greater Chicago Metropolitan Area as a leader in window replacement and window installation. With the company's 63-year-long relationship with the communities it serves, L.J. Neal & Sons is celebrated as having the impressive background and experience necessary to handle all of its clients' home window replacement projects. No matter the size or scope of your window installation project, no job is too big or too small for L.J. Neal & Sons. Consequently, whenever our neighbors in Plainfield are looking for the most dependable, ethical and exceptional home window replacement services, L.J. Neal & Sons is the only name they need to know.
Plainfield Window Installation
Plainfield, Illinois has nearly 42,000 residents and is primarily in Will County with a small portion in Kendall County. Burbank, Illinois, home to L.J. Neal & Sons, is located approximately 28 miles northeast of Plainfield. It makes perfect sense that whenever our Plainfield clients are in need of new windows, they look up the professionals at L.J. Neal & Sons. Because of our more than six decades' relationship with people all across the region, it is not unusual for L.J. Neal & Sons to be doing business with the descendants of the Plainfield families our grandfather dealt with many years ago. That's not just coincidence. It is largely due to the fact that the first Leo J. Neal set a standard for excellence that is just as strong today as it was more than 60 years ago. In fact, our Plainfield clients are well aware that they can rely upon L.J. Neal & Sons to not only meet their expectations for window installation and window replacement, but they know we will most likely surpass them!
Plainfield New Windows
In fact, when you have a company like L.J. Neal & Sons that has stood the test of time, handle your replacement windows, you will be assured of receiving the customer services which you deserve. Furthermore, it will come as no surprise to learn that customer satisfaction is, always has been, and always will be L.J. Neal & Sons' top priority! It's also not uncommon for much of our window replacement and window installation business to be referrals from happy customers or repeat clients who liked the way we did business with them in the past. It is well known in the business world that nothing succeeds quite like success, and for L.J. Neal & Sons it has most definitely been the case! Word of mouth has brought countless customers to our door after pleased customers have recommended family members, friends and colleagues from work to come to us for replacement windows. For the new windows you want at a price you can afford, call L.J. Neal & Sons, today, at:  (630) 929-6190. We look forward to earning your business!
Plainfield Window Replacement | Plainfield Window Installation | Plainfield New Windows | Plainfield Home Window Replacement | Plainfield Replacement Windows