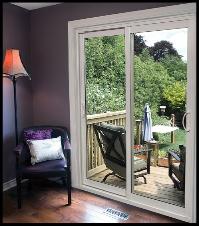 Does your patio door dictate where you place your interior and exterior furniture?
Are you undecided about whether to choose a left-hand or a right-hand patio door?
Perfectly symmetrical to make your life simpler!
The unique design of this Double-Active Sliding Patio Door allows for flexible indoor and outdoor furniture arrangement and flexible flow of traffic between the interior and exterior of your home. With a meticulous design plus superior features and options, the possibilities for your Double-Active Sliding Patio Door are endless!
Multi-chamber profile
Prestige handle upgrades
Multiple panel system feature
Standard and custom sizes
Grille style options
Several color options
Energy options
Security locks and roller features
Heavy-duty screen door feature
Full triple layer weather stripping
Corrosion-resistant tracks
Mini-blinds between glass option
Transom and side-lite options

Match your patio with interiors, not the other way around!
If you are tired of letting your patio dictate your interior design and arrangement, then it is time to change that. At L.J. Neal & Sons, we offer double-active sliding patio doors that come in several color and grill pattern options. These heavy-duty and energy-efficient sliding doors are resistant to corrosion and provide mini-blinds between glasses that make it difficult for outsiders to peep in to your personal space of comfort.